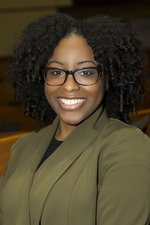 What are your main responsibilities?
I currently work at the Yale School of Management within the Center for Customer Insights (YCCI) as their Discovery Project Coordinator and Sr. Administrative Assistant. The Discovery Project is a experiential learning experience where MBA/MAM students get to work alongside experienced faculty members and advisors to find answers to the most complex questions and challenges on the minds of top marketing executives today. In my role, some of my responsibilities include assisting the students with on the ground resources, including interview recruitment and associated logistics; client and faculty meeting logistics, survey collections and analysis; travel planning; managing events and budgets; as well as all other administrative requirements over the course of the project. 
How did you begin your career?  Talk about your career journey at Yale.
I began my Yale career at The Yale School of Medicine working as a Sr. Administrative Assistant in the Pulmonary department. During my two and a half years there, I decided to go back to school for my Masters in Healthcare Administration with the idea that I would work my way up in healthcare field to become an Administrator of a hospital/healthcare setting. However, on my "masters journey" in healthcare, I realized it wasn't fulfilling all my intellectual needs and decided to get another Masters in Industrial/Organizational Psychology (MAIOP - the study of applying psychological principles to the workplace) while finishing the other masters, as well as a Human Resource Certificate. Being involved in the MAIOP program opened my eyes to my passion of helping, motivating, and inspiring others – which ultimately lead me to a career change. My recent position as the program coordinator in YCCI has allowed me to start my new career path by allowing me to sharpen my interpersonal skills, while still honing in my prior skills – organizational, communication, and leadership. My ultimate career goal is to become a Dean of Students, mentoring individual students while creating academic programs that foster student development and engagement with the school and the community. 
What skills, abilities, and personal attributes are essential to success in your job/this field?
Both in my current role and as a Dean of Students, one must have the following:
Excellent oral and written communication skills
Outstanding interpersonal and community relations skills and the ability to communicate and work effectively within a diverse community
Skill in organizing resources and establishing priorities
Ability to multitask
Skill in examining and re-engineering operations and procedures
Ability to react calmly and effectively in emergency situations
Skill in budget preparation and fiscal management
Knowledge of student support programs and services
Ability to use independent judgment and to manage and impart information to a range of clientele
Can you recommend trade journals, magazines or professional associations which would be helpful for my professional development?
For help in my professional development, I have created my own personal "Board of Directors." They are a group of individuals with different personal and professional backgrounds whom I consult regularly for advice and feedback.
I am a member of the National Association of Student Personnel Administrators (NASPA) and I keep up on the Chronicle of Higher Education.
If you could do it all over again, would you choose the same path for yourself? If not, what would you change/do?
I wouldn't change a thing! Although obtaining my Masters' degree in Healthcare Administration may not help me directly in my career path, it allowed me to identify my true passion and I will be able to use some transferrable skills to assist me in my future endeavors.