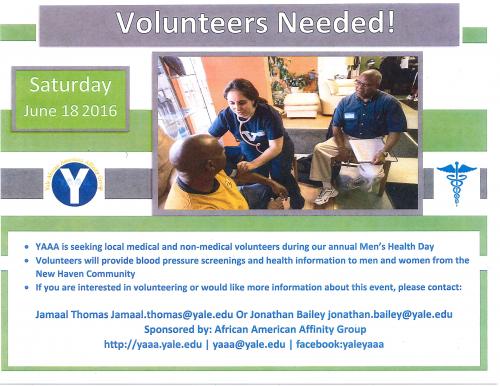 YAAA will celebrate Men's Health Month by partnering with local medical volunteers to provide blood pressure screenings and health information to men and women from the New Haven community at participating local barbershops and salons on Father's Day weekend.
Volunteers are critical to the success of Men's Health Day. They engage in community outreach and planning activities and provide on-site support on the day of the event. If you are interested in volunteering or would like more information about the event, please contact program co-chairs Jonathan Bailey or Jamaal Thomas to indicate your preference to serve as a Medical or On-Site volunteer.
Medical Volunteer – Medical Volunteers (all health care professionals) will administer blood pressure tests and provide feedback to participating community members.
On-Site Volunteer – Volunteers will work alongside our Medical Volunteers to manage the event and hand out information at individual locations.
We are grateful for your support and look forward to partnering with you to promote men's health awareness and celebrate members of the New Haven community this Father's Day weekend.