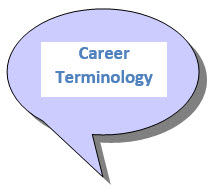 June 2017 - Career Branding – Helps define who you are, how you are great, and why you should be sought out. Branding is your reputation; branding is a promise of your value to an employer. Branding is about building a name for yourself, showcasing what sets you apart from other job-seekers, and describing the added value you bring to an employer.
January 2017 - Career Activist – Someone who is proactive in planning, evaluating, directing, and controlling his or her career rather than simply reacting as situations arise. (Some call this approach career mapping.) A career activist has an enduring interest in understanding and achieving his or her full career potential, while maximizing career marketability.
November 2016 - Business Plan – A complete overview for a business, from development of a vision and mission of the business to the setting of business goals to the reasons why organization (or person) is in business to the detailed plan for reaching those goals. A business plan may also contain background information about the organization and management team attempting to start and run the business. Detailed analysis and information about the product or service, marketing and branding strategies, and key competition should all be included. Business planning should include both short-term (1-year) and long-term (3-5 years) goals and plans.  
April 2016 - Background Check – Used by employers to verify the accuracy of the information you provide on your resume or job application – and beyond. On the rise as prices fall on these services. Items checked include: employment verification, educational background/degrees, references, credit history, medical records, driving record, court records, criminal records, and more. 
February 2016 - Action Verbs: The building blocks of effective cover letters and resumes. These concrete, descriptive verbs express your skills, assets, experience, and accomplishments. Avoid nondescriptive verbs such as "do," "work," and forms of the verb "to be." Instead, begin each descriptive section with an action verb. Almost every resume book has a list of great action verbs to choose from.
December 2015 - Accomplishments: These are the achievements you have had in your career – including work, job, and life successes. These key points really help sell you to an employer – much more so than everyday job duties or responsibilities. In your cover letters, resumes, and job interviews, focus on key career accomplishments – especially ones that you can quantify.