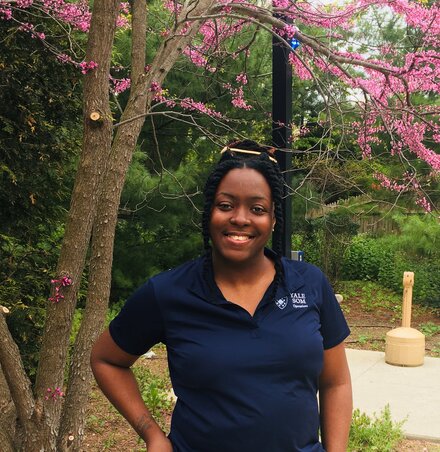 What is your current role at Yale University?
I am presently a Custodial Team Leader (CTL) at the Yale School of Management.
What are your main responsibilities?
My responsibilities as a CTL are to assist management and custodians in maintaining a clean environment, as well as managing event set ups for our customers in the Yale SOM community.
What do you like most about your work?
What I like most about my job are the interactions. Yale School of Management has such a diverse community of individuals from faculty to maintenance, that has learned not only to work together, but to forge relationships that are beginning to reflect the diverse community it supports.
How does your job affect your general lifestyle?
I wouldn't necessarily say that my job affects my life style but vice versa. My lifestyle affects my job. Being raised in a God-fearing household, it was instilled that "Faith without work is dead" John 2:18. The morals and work ethic that I learned long before Yale taught me to push through and persevere despite the obstacles ahead. I live and pour it into my work environment that the hard work you put out will not return void, and can introduce you to places and people that you can inspire, as well as will inspire you to be greater.
How did you begin your career?
I began as a 16-year-old young woman working a job while in high school before college. I had actually left Yale for college and returned right before my junior year to have my son. As a soon to be parent at that time, I had to think rationally about what would be best for myself and my child. This new life dynamic, however, pushed me even more to not only work for Yale, but allow the benefits of Yale to work for me.
What steps would you recommend one take to prepare to enter this field?
As I tell people all the time, Yale has so many benefits beyond being well paid and great healthcare. Work hard no matter what's going on around you and never lose sight of that ambition, determination, and endless opportunities offered. Every department in Local 35 has room to grow. If a job requires training, testing, or even seniority, understand that you can only change what you can control. So go get that training, take the initiative, and call HR to request that testing. Remember, every race is not won just by the swift and the strong, but those who know that they are swift and strong, and have the patience to know their time is coming. So never settle.
What skills, abilities, and personal attributes are essential to success in your job/this field?
Before I was a CTL, I was a custodian, mobile rounds, and senior custodian. In my position, some would say that I am well rounded. I am involved in so many things within the Yale Community, as well as my own community. I do have my bachelor's, which assists me with the parts of my job that are more clerical, as well as my community-based involvement that makes my interactions with individuals that I encounter very interesting to say the least. Many would say that I have a personable and welcoming spirit that motivates the least motivated and inspires the uninspired to be great.  An attribute that is essential to not only my workers and my job but any person that may need it, is my love for advocacy, whether its inequality in the workplace or in the world. I'm always willing to stand in the gap and speak up for any one when needed. 
If you could do it all over again, would you choose the same path for yourself? If not, what would you change?
Initially I would say yes because this was definitely not the path or end result that I had for my life. However, in the past 17 years at Yale, I have gotten my degree with tuition reimbursement, switched schedules to work full-time, have a full-time internship at the Connecticut Legislature, and had a job with benefits while I went through breast cancer. So, this path has helped me through some trying times and though not my first choice, this path was a character builder through some very humbling experiences. It also lead me to apply to the Yale Law School Access program, which is an innovative pipeline program that serves first-generation, low-income, and under-represented minority students from New Haven and Connecticut who wish to purse a legal career. So, though this is the road less chosen by many, the obstacles along the journey has helped to build the character I need for my future, and the goals that I have set for myself and those around me.
What does YAAA mean to you and how have you contributed as a member?
For a while I have watched the growth of YAAA and the impact that they have had on the Yale and New Haven Community. Always looking from the outside trying to stay connected and be involved. As a Local 35 employee, I wanted to make sure that everyone in the YAAA community had a voice. All the benefits to grow within the University are attainable, and I want to make sure that those around me can achieve their goals, whether its staying in 35 or transitioning into another department. As a New Haven resident, we are Yale just as much as the students and faculty, and I strive to make sure that those within the University are treated fairly and are aware of all the opportunities that the University has to offer. Presently as Co-Chair on the YAAA Social Justice Committee, I look forward to initiatives that empowers our Yale and New Haven Community.