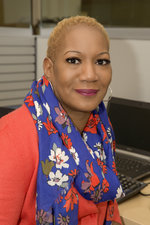 What are your main responsibilities?
My title is User Accounts Specialists, Campus Technologies Systems (CTS) within the ITS Department. My main responsibilities include being responsible for creating and maintaining access rights to more than 15 ITS applications; providing technical and functional support to faculty, staff, and ITS partners; ensuring that all access and any support services provided are aligned with Yale University's policy and procedures, as well as in compliance with HIPAA (where applicable).  I assist with coordination of NetID activation and email for incoming students 1998-2005, including mass word merges and on site activation for thousands of students in various locations across campus. I also document technical and functional procedures for various applications to create SOPs (Standard Operating Procedures) for departments. When needed, I advise the Yale community of current policies and procedures pertaining to accounts and access. I have been in my current position for 18 years and employed at Yale University for 26 years.
How does your position fit within the organization?
My position fits within the organization by assisting to prevent end-users from receiving software access that they may not need or should have. This minimizes the security risk to the University.
How does your job affect your general lifestyle?
I am extremely engaged with my job during work hours. However, the position has given me the flexibility to go back to school to acquire two (2) masters' degrees (Human Services and Organizational Leadership), flexibility of co-chairing the Yale University African-American Affinity (YAAA) Group, as well as community volunteerism. Currently, I am the co-chair of the Newhallville Community Resilience Team. My main passion is to engage with women and youth to assist them in finding their inner strength during self-crisis. Due to this passion, I have created a program entitled "It's Working Together Project".
If you could do it all over again, would you choose the same path for yourself? If not, what would you change?
No, I would not have chosen the same path. I would have worked on my formal education first and then pursued my career based on my passion of assisting at-risk women and youth. Also, I would have been able to take advantage of more diverse opportunities at Yale University.
*Photo courtesy of Elm City Images