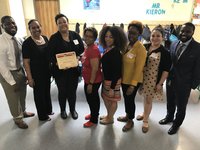 Thank you to ALL of the YAAA members that gave willingly of their time and love to support the New Haven Boys and Girls Club STEM Program; and the Celetano Read Aloud Program on May 16th and 18th respectively. We worked in conjunction with the New Haven Alumnae Chapter Delta Sigma Theta Sorority, Inc., and Phi Beta Sigma. 
The children were ecstatic that you were able to participate and share their outcomes as they learned about various experiments. The goodie bag was equally enjoyed, for some children came back for seconds! The children of Celetano enjoyed your reading and acting skills. Let's not forget about your multicultural book donations to their ever growing library. Interesting to note, when one of the Yale staff returned to the NHBGC that afternoon, one of the children from Celetano recognized her and told her volunteer, "She was at my school today!" Children are sponges; so thank you so much for pouring into them!
Please take a moment and view the photo galleries for STEM Up! and Read Aloud. Check out the STEM Up! video here.