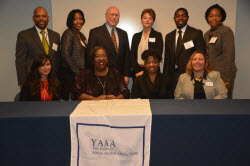 Wednesday, December 9, 2015
Thank you to everyone who was able to attend our workshop, which consisted of panelists from Compensation & Classification, Benefits and Best Practices. There were also representatives on the panel who spoke about their experience transitioning between job categories. 
The purpose of this workshop was to share information about what transitioning from one job category to another involves, provide clarification of the audit process, outline benefits for each job family, and share real life transitioning journeys.
Click here for the workshop handout. Check out the event photos here.